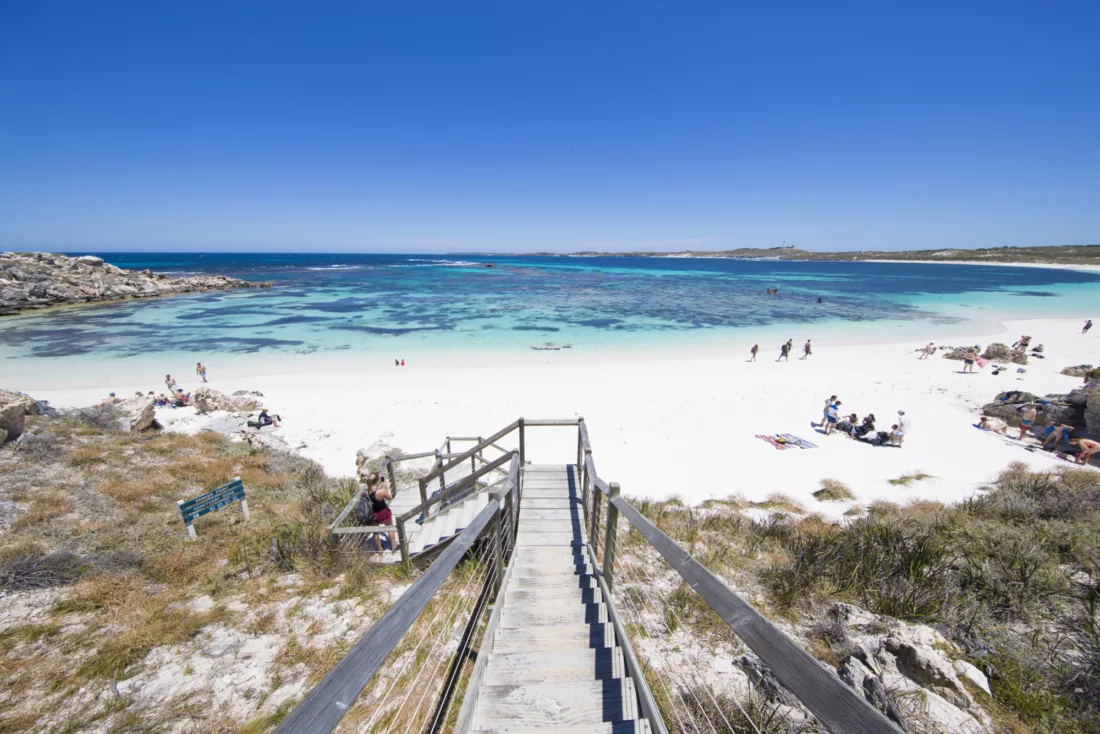 A Day Excursion to Rottnest Island, Western Australia
Rottnest Island is a low-lying island that can be found approximately 18 kilometers west of Fremantle. It is believed that Rottnest Island separated from the mainland approximately 7000 years ago.
This A-class reserve, which was developed on top of aeolianite limestone, is afforded the highest level of protection afforded to publicly owned land. The island has a total land area of 19 square kilometers and is able to outshine many of the other islands in the area thanks to the breathtaking natural beauty it possesses.
In addition, the virgin island is made more approachable by the daily ferry services that depart from Perth. This island should be at the very top of your list of places to visit because it is home to approximately 300 permanent residents, receives more than 500,000 visitors annually, and welcomes an additional 15,000 visitors during peak travel times.
About Rottnest Island
This article will provide you with a detailed guide in the event that you are unfamiliar with this scenic location that is located off the coast of Western Australia. Prepare to have all of your senses pampered while exploring one of the most breathtaking islands you will ever see.
This island will not only provide you with the opportunity to relax and unwind on its sun-kissed beaches, but it will also be a wonderful experience for the animal lover in you. Rottnest Island is the picture-perfect picture of tranquility wrapped around exciting activities.
Whether it is the quokkas or the marine world, the cutest animal will come across from you, Rottnest Island is the ultimate pinnacle of calm.
How to go to Rottnest Island?
Ferry services make it possible to travel to Rottnest Island from Perth, Hillarys, and Fremantle. From Fremantle, the ferry ride takes around 25 minutes, whereas the trip from Hillarys Boat Harbor takes about 45 minutes.
But, if you're leaving from Perth's Barrack Street Jetty via boat, the trip will take about 1 hour and 30 minutes. You can take a plane and get an energized head start on your incredible tour, but if you're an adventurer at heart, don't forget to rent a bike on the mainland for a reasonable price.
If that doesn't work for you, booking a maxi cab is another viable alternative. Traveling by bike up until you're too weary, then hopping on a bus, is another viable option. If you want to explore Rottnest Island by bike, you can do it with the help of a Rottnest Island Map.
Weather of Rottnest Island
Because Australia is located in the southern hemisphere, it is essential to keep an eye on the forecast before deciding on a certain day to embark on a trip there. Fall and early spring are perfect times to visit Rottnest Island because of its mild climate.
You can also visit this island between the months of October and November in order to take advantage of the possibility presented by a calm sea for activities such as swimming or diving.
The months of December through March make up the summer season when the average temperature is around 40 degrees Celsius and there is very little humidity. On other hand, autumn occurs between the months of April and May and features temperatures that range from 13 degrees Celsius to 25 degrees Celsius.
The temperature during the spring season often ranges between 11 to 20 degrees Celsius, which corresponds to the peak season, which occurs in October and November.
A Day Excursion to Rottnest Island and Attractions
A day excursion to Rottnest Island will be everything but boring. A day spent on Rottnest Island will leave an indelible mark on your memory, whether you visit Perth as part of a larger tour or on its own. Get your maxi taxi Perth to reach Rottnest Island.
Let's travel to the home of the quokkas so that every experience will be one to remember:
Get on a Bike and Go
It is not difficult to go across Rottnest Island's 23 bays and 60 beaches because the island only covers a limited area, and its coastline only stretches for 25 kilometers. A bike will be the answer for you if you are thinking that what will be the easiest means of transportation to use in the future.
Renting a bike as soon as you set foot on the island is the best way to see all of the island's beautiful beaches, which are teeming with people participating in a variety of exhilarating water activities such as surfing, snorkeling, diving, fishing, and swimming.
But, make sure you bring extra food with you because there won't be many food kiosks here.
Amusement park Enjoyment
At Just 4 Fun Aqua Park, everyone, young and old, can splash around and have a great time. There are buses that will get you there quickly from everywhere in Singapore to the Thomson Bay location.
Inflatable fun for all ages can be found at this mobile amusement park. The park's high level of security is another selling point.
Whale Watching
You will get the chance to observe the fascinating terrestrial and aquatic animals that make their home on this island, where they live in relative harmony. Rottnest Island is the ideal location to visit if you have watched whales such as southern right whales and humpback whales on television and are interested in witnessing the fascinating movement of these whales in person.
Migration routes for these whales can be found around the coast of Western Australia. Throughout the month of April, these whales make their annual migration from Antarctica to higher latitudes in search of food.
They make their way back to the island in the months of October and November with their young calves and spend a significant amount of time in the island's protected maritime region. Take one of the island explorer buses or ride your bike over to the West End Boardwalk, which is the ideal location for viewing whales.
Photogenic animal Quokka
The creatures of Rottnest Island are a big part of the experience. If you visit Rottnest Island, you must meet a group of quokkas. These furry little critters are amiable and will pose for some of the most memorable photos you take on your vacation.
These animals have no fear of people and would happily join in with the throng and pose for pictures if asked. Be sure to make friends with them, as they are unique to this island. Don't ever give them food, as they can easily become ill from the wrong kinds of food.
Rottnest West End
If you find yourself on Rottnest Island, you must make it a point to visit the West End. This is the most peaceful part of the island, and it features breathtaking vistas, vibrant colors, and a dramatic shoreline.
The inside of the Vlamingh Lighthouse is also open for tours. At the end of the day, it is time to turn on the bike and take some time to relax and enjoy some of the regional cuisines while gazing out at the ocean in all its brilliant blue glory.